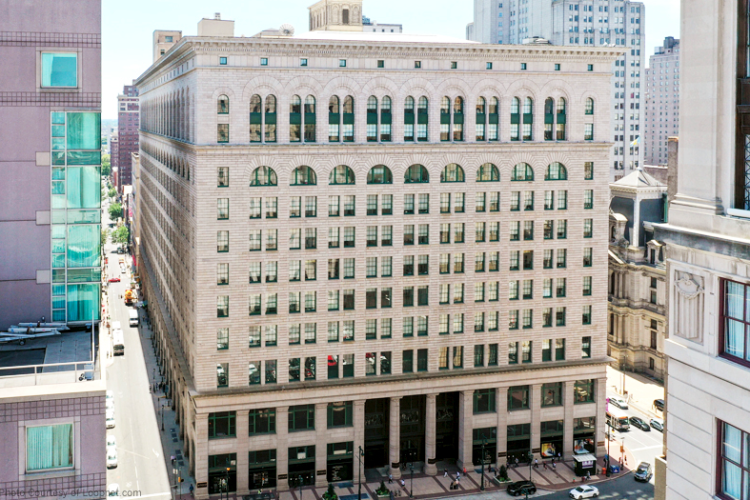 Using the ReechCraft PowerMast for Historic Building Restoration
The ReechCraft PowerMast offers many advantages over traditional scaffolds and mast climbers, and is an excellent option for exterior building projects. Read on to learn how the team at Palmer, Inc. used the PowerMast wall-tied system to make their job more efficient and cost effective!
Based out of Philadelphia, PA, Palmer, Inc. has been in the masonry restoration and waterproofing business since 1976. The Palmer brothers created the business after their father passed down his knowledge and skills of the trade. By staying true to their family roots, the brothers expanded Palmer, Inc. from a small residential company in NE Philadelphia to one of the foremost restoration companies in the Philadelphia area.
Palmer, Inc. was contracted to restore the Wanamaker Building in downtown Philadelphia, PA. One of the largest buildings in Philadelphia, the Wanamaker Building stands at 12 stories tall with an additional three stories underground.
This historic building was one of the first department stores in the US. It now houses an atrium, café, fitness center, and office spaces, as well as the largest Macy's in Philadelphia. Maintaining the integrity of the building's exterior is a must. While they have experience with swing stage products, Palmer sought an efficient scaffolding or access alternative that could save them both time and money. 

The ReechCraft PowerMast wall-tied system offered Palmer, Inc. a ground-up solution to use on the Wanamaker Building project. Palmer saw the competitive advantage of the PowerMast instantaneously. Fast setup and teardown times, in addition to its lightweight and portable nature, meant fewer employees on the jobsite at one time. This resulted in not only cost savings for Palmer, but also a more efficient job completion for the Wanamaker Building.
John Trumbauer, job foreman at Palmer, Inc., said, "I like the product so much, I can see us making a much larger investment in more ReechCraft products going forward."
Special thanks to the team at Palmer, Inc. for sharing their story and project with us!