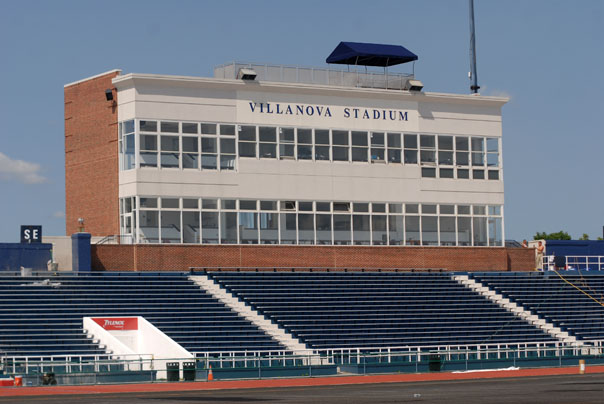 Engineer:
Joseph B. Callaghan, Inc.
Contractor:
Palmer, Inc.
Products:
NP1
GelPatch
10-60
TrafficGuard EP-35 Sonoguard Thorocoat
Villanova Stadium
Villanova, PA.
Project Description :
Villanova University Stadium, built over several decades, was in need to repair failing concrete in the seating area and also wanted to give their stadium a "face lift" to improve the appearance.
Project Challang e:
In addition to concrete repair (both horizontal and vertical) tl1e inconsistent profile required an epoxy overlay to provide a uniform su1iace. The University also wanted to incorporate the school's colors into tl1e seating area.
Project Solution:
The University utilized BASF's GelPatch and 10-60 concrete repair systems for vertical and horizontal applications.
TrafficGuard EP-35 Epoxy overlay system was utilized to provide a uniform surface. BASF's Sonoguard system with a tint base topcoat provided excellent protection for horizontal applications and Thorocoat for vertical applications. All top coats were color matched to the University's school colors.